One article to understand the outside spray color and outside electroplating colorful glass candlestick processing technology, enjoyable!
Demi Sunng Glassware 2022-07-26 15:17:15
Sunny adapts extra six steps for inspection,No major quality complaints on products produced for 9 consecutive years. How many glass candlestick processing techniques do you know? Today, Sunny glassware will share the process of color spraying and color plating of glass candlestick light cup.
Process requirements: external color spraying + external color plating; The colorful effect on the surface of the glass is higher, there can be no obvious clip print, scratch, normal glass basically have these problems, especially the cup of the naked body, so the cup of the naked body in this process often spray bottom oil replating.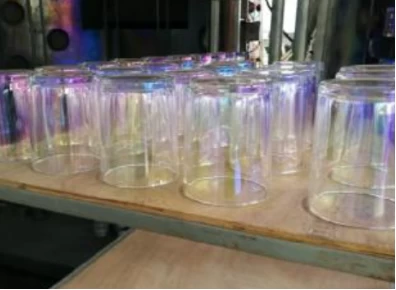 Process formation: titanium target + oxygen;
Plating time: the normal plating time is about 35 minutes, and the electroplating time on the surface of the target material is about 240 seconds (ion plating time mainly depends on the size of the product and the degree of product density).
The number of a furnace: the number of colorful plating is less than half to 2/3 of the number of bright film plating; So the price of electroplating multicolor is expensive.
Pendant mode: Conventional is a single rod multi-layer single 360 degree rotating plating, between the rods. To confirm the distance between products according to the actual situation; Electroplating colorful fixture can also be plated bright film, but bright film fixture may not be plated colorful.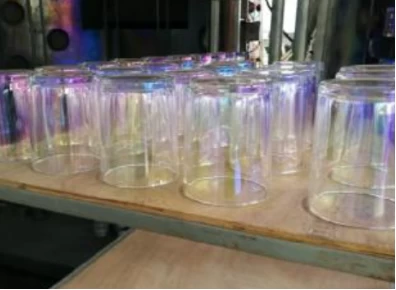 The above is the process of external color spraying and external color plating of sunny glassware glass candle holder light cup.Sunny glassware Product quality is the major focus in Sunny.  Sunny once demolished 80,000 pcs of glass vessel  with barely visible blemish.